Quarterback Deshaun Watson is set to receive a massive payday from the Cleveland Browns, angering other NFL teams and drawing interest from players' unions. Top players around the league are licking their chops at the possibility of following suit with these massive, fully guaranteed player contracts.
Deshaun Watson will take the field for the first time this Sunday as the starting quarterback for the Cleveland Browns. His presence alone has already changed the financial landscape of the National Football League through the fully guaranteed player contracts.
As one of the most lucrative and fully guaranteed player contracts in NFL history, Watson's five-year, $230 million deal has already begun to set a new standard for player compensation. This is causing tension between team owners and players, as many athletes feel they are not paid what they deserve. Shortly, a select few players will be able to command huge salaries thanks to Watson's groundbreaking contract.
"Deshaun Watson's new contract is a huge step forward for player safety," says Mike Tannenbaum, a former executive with the Miami Dolphins and the New York Jets. "The fact that every dollar of it is guaranteed is transformational and will change the game for years to come."
The NFL's decision to allow Deshaun Watson to sign a multi-million dollar contract with the Cleveland Browns has come under fire, with many questioning the moral implications of doing so.

Watson has just finished serving an 11-game suspension for violating NFL policy—he was accused by more than two dozen women of sexual misconduct. He has denied wrongdoing and settled with 23 of the individuals. The Browns declined to comment on this story. So did Watson's representatives at the talent agency Athletes First.

At a Thursday press conference, Watson said he would answer only football-related questions. He said that he was excited to be back in uniform and that his focus was being "locked in" on football.
Fully Guaranteed Player Contracts on the Rise?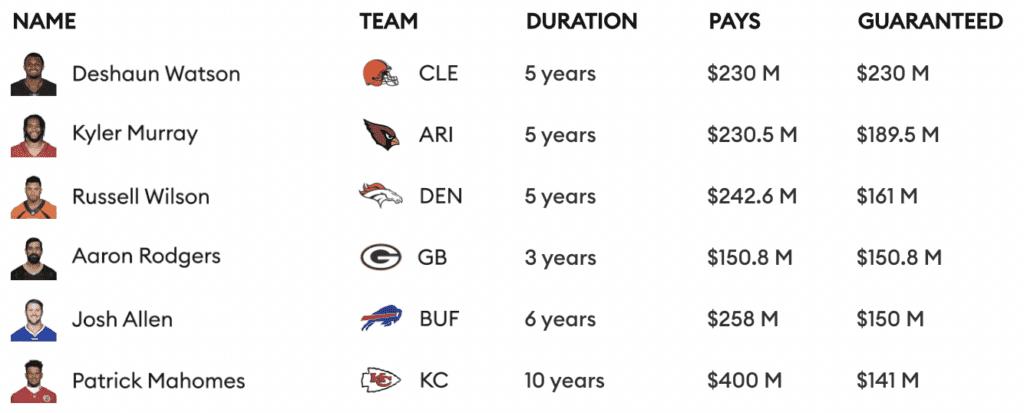 Patrick Mahomes is currently the highest-paid NFL player, with a total contract value of $450 million. However, when measuring by guaranteed money, it is Deshaun Watson who tops the list.
According to Charles Grantham, a professor of sports business at Seton Hall University, approving a game-changing contract for a player accused of such awful behavior could cost the NFL business, sending a wrong message to women – a demographic NFL is trying to attract.
The NFL is facing a potential crisis as players increasingly demand fully guaranteed player contracts. This was brought to a head when Browns quarterback Deshaun Watson signed a deal that included $107 million in guaranteed money. The NFL Players Association has filed a grievance claiming that team owners are colluding to keep salaries down.

This could have significant ramifications on how the league operates, as it could lead to more players holding out to get one of these fully guaranteed player contracts or even leaving the sport altogether. It will be interesting to see how this situation plays out in the coming months.
With the recent drama surrounding Cleaveland Browns quarterback Deshaun Watson, many young players in the league are no doubt watching with interest, longing for fully guaranteed player contracts. Among them is Baltimore Ravens quarterback Lamar Jackson, who was named the NFL's Most Valuable Player in 2019. It's possible that Jackson could use the situation to his advantage and negotiate a similar contract for himself.
"I'm not sure that Watson should have been the first player to get a fully guaranteed contract," Ravens owner Steve Bisciotti said at the NFL meetings in March, referring to Watson and the Browns. "I think that's something that's groundbreaking, and it'll make negotiations harder with others."
As young quarterbacks watch Joe Burrow lead the Cincinnati Bengals to the Super Bowl in his second season, they may be wondering when it will be their turn to cash in big time. Jalen Hurts of the 10-1 Philadelphia Eagles and Justin Herbert of the Los Angeles Chargers are rising stars who could see their paydays come sooner than expected. Just ask an agent.
"Everyone thinks it'll be a change for the better," says Wasserman sports agent Chafie Fields, whose clients include the Browns' Amari Cooper. "But you need supreme leverage."
In today's NFL, some teams are better equipped than others to sign players to fully guaranteed contracts. According to Forbes, groups like the Cowboys ($8 billion) and Browns ($5.5 billion) have a clear advantage over teams like the Bengals ($3 billion). NFL rules require that when an owner signs a player to a fully guaranteed contract, they must place that entire amount into an escrow account.
For some owners, this income from their team is vital to their livelihood. However, for other owners who are worth billions of dollars, such as Jimmy Haslam, this is not as much of a concern. Consequently, deals like Watson's could potentially create a divide between "haves" and "have-nots" regarding which teams can afford to sign top talent.
It's been over a year since Deshaun Watson last played in the NFL, but that doesn't seem to be a problem for the Cleveland Browns. They're reportedly set to pay him more in guaranteed money than three Super Bowl-winning quarterbacks. Patrick Mahomes of the Kansas City Chiefs has a ten-year, $450 million contract, but only $141 million is fully guaranteed, according to contract-tracking website Spotrac.
That means Watson will get more guaranteed money than the Denver Broncos' Russell Wilson, whose five-year, $242.6 million deal guarantees $161 million, and four-time MVP Aaron Rodgers, who signed a three-year, $150 million extension with the Green Bay Packers in March.
In the NFL, fully guaranteed player contracts are still relatively rare. The Oakland Raiders were reportedly the first team to sign a first-round pick to a guaranteed deal back in 1996 when they gave Rickey Dudley – a 6-foot-7 tight end from Ohio State – a five-year contract worth $8.8 million.
"It's a baseball-type deal," Dudley's agent, Joel Segal, told USA Today.
Dudley decided not to skip his signing bonus to get a guaranteed contract from an NFL team. Most contracts include a signing bonus, typically used as an incentive for players. However, with the recent introduction of Name, Image, and Likeness money for college athletes, these bonuses may become rarer. Players may cash in on their NIL money during college instead of negotiating long-term guarantees.
As NFL teams are bound by a hard salary cap, paying more to one player means that other players must be paid less. This is why teams with young quarterbacks often do well; they can afford to sign better players at different positions, as their quarterbacks are still on rookie contracts that pay less. Giving out massive contracts to one player will negatively affect the team's roster. Money doesn't necessarily buy wins in the NFL.
According to Tannenbaum, agents have proposed fully guaranteed player contracts, but he has never offered one.
"Watson's contract is saying no in the most eloquent way possible," Tannenbaum told Forbes. "NFL negotiations are always about how much risk is involved, who has the risk, and when. With Watson's contract, the Browns are assuming all of the risks. That's significant."
The following article has been updated to include the most recent information on Patrick Mahomes' contract value and Aaron Rodgers' career stats. With these new updates, we can better understand the NFL landscape and where these two quarterbacks fit in.
Comments Rating
( reviews)